The Carrygo cargo bike was conceived as a nimble bike for the urban environment, especially Britain.
It had to be tough, and carry a load of supermarket shopping through town with ease.
The idea was to upcycle a mountain bike frame and add the necessary bits that would turn it into a tiny two wheeled pick-up truck.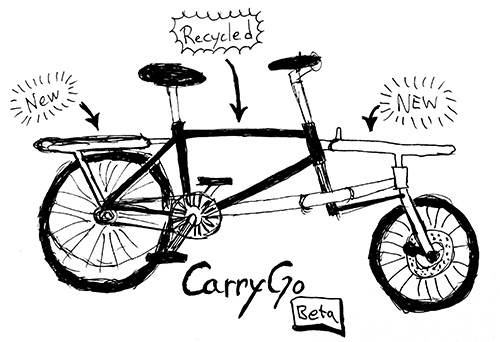 The result was a bike that could be ridden into town, quickly parked up securely whilst doing the shopping round, then quickly ride back home and unload. It could easily transport the content of a shallow supermarket shopping trolley. It was nimble enough to carry all that load through the narrow streets, cycle paths, and staggered gates that prevent people from cycling and running straight into traffic.
I encourage you to watch this video, it explains most features of the bike quite well.
Eventhough there were several enquiries about the bike, it resulted in no sales. In hindsight that was probably a good thing as it would have been almost impossible to produce the bike with any profit. The handbuilt nature of it would have demanded a very high price, just for the frame, paint and components on top this.
We found that the culture at the time would have most people buy recreational bicycles for thousands of pounds, or spend a massive amount of a hire-purchase lease agreement on a car, but if a practical cargo bike costs more than a regular random-brand bicycle from the big box store, then that's insanity.
This means that the yellow bike is the only one in existance. As things changed, it was sold on an online auction site for a ridiculously low price, again showing that there's very little demand and competition for a product like this. From what we know, it now happily lives in Liverpool helping out a photography business.
Some of the unique features and compontents:
Short enought to fit through the staggered gates that are common on British cycle paths.
Strong enough to carry so much load that it would have difficult to ride the bike.
Upcycled from an existing mountain bike.
Chunky tyres and rims so that kerbs and potholes won't be a problem.
Three speed hub gear with coaster brake - that's when you push your pedals backwards to stop - requires no external brake components.
Hydralic front disk brake for maintenance free use and great stopping power.
Sturdy centre stand that can be activated whilst straddled on the bike.
Axa horseshoe lock with external chain, one key unlocking and key stays in the lock whils riding.
Front and rear rack - see below for comments.
4 × M8 fasteners for attaching cargo boxes and other implements.
Bottle opener! Yes, really!
Drawbacks and things to improve if you build one:
Getting onto the bike and riding off was a bit difficult with a male-style MTB frame. A ladies-style, step-through, frame would have made it easier.
Heavy loads on the front and rear rack induced snaking - this probably why you rarely see cargo bikes with front and rear racks. The double side-bars alleviated, if not fixed this issue.
20" front wheel still makes the cargo rack quite high up. Therefore more load requires slower speeds.
Apparently a coaster brake is an unknown concept in UK.
Many enquiries were if it could carry a child seat - whilst it probably could, it definitely was not designed to and the form is definitely ideal for it. Hint: If you want to sell cargo bikes, make sure you can use it to safely transport kids.
I'm leaving this information here for the world to develop and learn from. If you have enquiries, you can email me on jocke@carrygo.co.uk and I'll do my best to answer your questions. At this stage I will not continue the development of the Carrygo concept. I have a few ideas on a Gen 2, but now is not the time for me to work on this.
I believe we all should take cycling as a viable short distance form of transport. It's healthy, clean and fun.
Finally I'd like to thank the people involved in the project for their support. In no particular order, Luke, for the donor bike, Ash for his cycling expertise, Caz for supporting the stupid idea, and Cecce for the logo. Also all of you who have shown support and asked questions; It's all much appreciated.
May the Carrygo concept live on!